This might just be my opinion, (and since you came to visit my blog you obvi want to hear it, right?) but there is something AWESOME about another girls purse. It's like a treasure chest. I love reading "what's in my bag?" blogs. Maybe full of receipts, a random jumbled mess of bobby pins and 5 pens that don't work... (or is that just mine?) but under all that debris, i think it's safe to say that you can judge a girl by her purse. not that we're into judging around here but you know what i mean. SO- get ready to
judge
get to know me better... cause here's whats in my bag!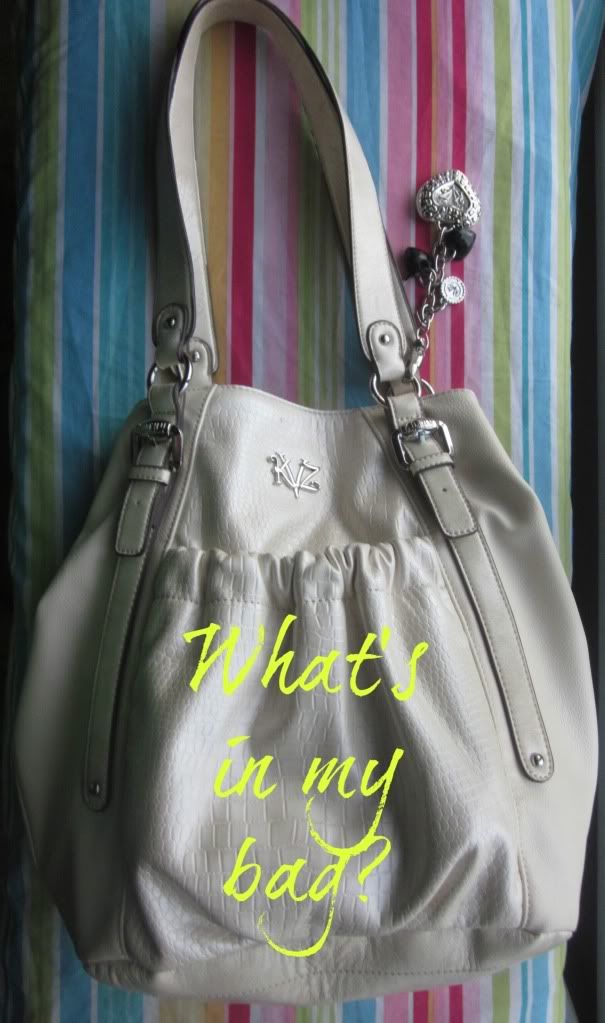 Purse- Kathy VanZeeland To-gather Forever bag. color: bone
1. emergency hair accessory. i try to stick with greys and silvers cause they go w/ just about everything.
2. snacks. for me and jonah. currently: goldfish and blueberry pecan KIND bar.
3. sunglasses. and a case to keep them scratch free and in one piece.
4. eos lip balm. love this stuff. i have it stashed everywhere. currently: sweet mint flavor.
5. gum. always extra. usually mint chocolate chip, but currently: root beer float.
6. hand lotion. i hardly ever use it.
7. wallet.
8. roller perfume. currently: daisy by marc jacobs.
9. paper and pen. I'm an avid list maker.
10. hand sanitizer. it's a dirty world out there. currently: B&BW dancing waters.
there you have it! if you want to join the fun, post what's in your bag and leave a link in the comments!